To coincide with the opening of its first California-based retail location, Bob's Discount Furniture contracted a team of analysts, developers, and designers to overhaul its eCommerce business with a new responsive site. The creation of the regional retailer's new home online required daily coordination between client stakeholders and an ambitious Agile sprint schedule that left little margin for error.
Bob's Discount Furniture contracted a full spectrum product team following the restructuring of the retailer's Marketing division and the realization of a $1 billion revenue milestone in the summer of 2016. Impressed by a visionary pitch, Bob's tasked the UX and visual design team with performing a thorough analysis of the site's information architecture, heuristics, and visual design before building a new eCommerce solution on top of a Hybris framework. Once this analysis was complete, the team presented its findings and began work on the new site with a group of ten developers, SEO analysts, experience and visual designers, and project managers.
We used up-to-the-minute SEO metrics to inform the site's new information architecture and paid special attention to peppering engaging content marketing throughout landing pages and navigation menus.
As a contract UX designer on the team, I collaborated with an experience director, visual designers, SEO analysts, and project managers throughout the first three phases of Agile development. These phases encompassed the creation of the new information architecture; all-new mobile and desktop navigation interactions; and the layout, filtering, and search of product landing, detail, and category pages throughout the new site.
As the first dedicated experience designer for the project, I had the pleasure of working with project managers, visual designers, and SEO analysts to propose a new experience-first schedule. Prior to my arrival, the team was basing the deliverables of their first phase off their preliminary vision document. My new schedule forced the team to focus on creating seamless, user-centric interactions rather than just compelling visual design.
By working overtime across the first two sprints, I was able to catch the team up to our new user-first approach and present deliverables to client stakeholders early. This provided our visual designers with a small time buffer on all phases going forward.
Over the course of this first phase, I worked hand-in-hand with SEO analysts to develop a new information architecture based on Bob's clickthrough metrics. With this data, I successfully removed almost two dozen redundant product categories from the site's existing IA, streamlining the navigability and ease of use for the new site.
For the second phase, I designed navigation solutions for both mobile and desktop experiences, creating deep-linking mega menus that gave Bob's the ability to advertise sales and featured items throughout the site. I also championed user-friendly interactions at every stage of design, such as navigation breadcrumbs and fixed navigation on scroll.
Finally, for the third phase of Agile development, I proposed and designed numerous product landing, category, and detail page variations based on eCommerce and furniture industry best practices; I presented copious notes both to the design team and Bob's stakeholders based on thorough research of UX findings and comparative analyses of existing furniture retail sites. I also designed a comprehensive user questionnaire to help guide the project going forward.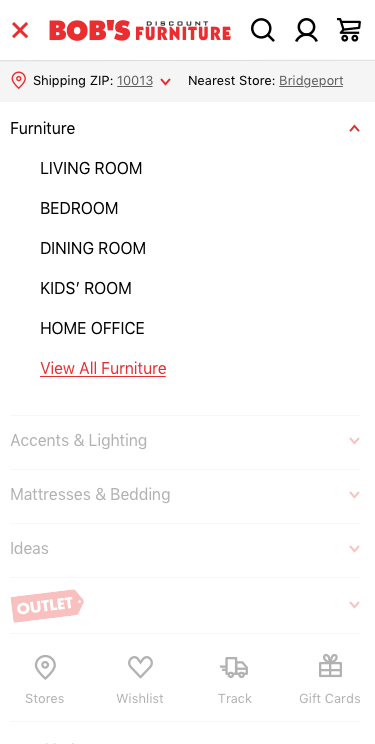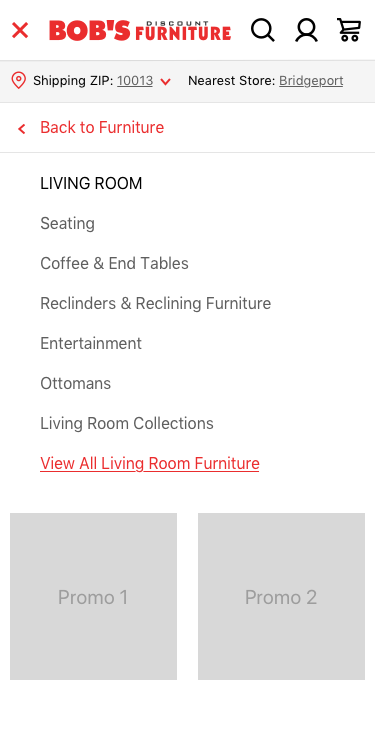 The new eCommerce site launched in February of 2018.